The Rider's Handbook
Hazard perception

Responding to hazard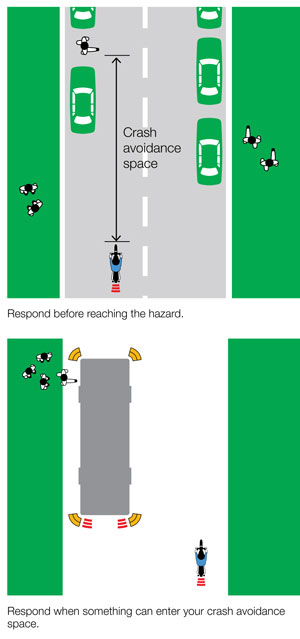 A hazard is something which has the potential to accelerate or steer into your crash avoidance space.
The three second rule can also be used for situations where there is potential for something to accelerate or steer into the space. For example, a vehicle in an adjacent street could fail to give way and accelerate out. Or a vehicle approaching could turn without warning into an intersection and steer across your path.
Experienced motorcyclists who ride low risk, are able to mentally judge a three second crash avoidance space in front of their motorcycle. If there is potential for a hazard to enter this crash avoidance space, your response should be to protect it by:
Slowing down ('Setting up' or covering the brakes).
Moving away, creating a 'buffer' from the hazard by changing your position
on the road or changing lanes.
Your ability to respond means that you are better able to deal with any dangerous situation that might occur.
Examples of situations that require a response