The Rider's Handbook
Road positioning
Traffic and road situations are constantly changing and so does the safest position on the road. Low risk riders aim to be in the right place all the time.

Space, surface and sight
Three key things must be considered when choosing your position on the road. These three things are: space, surface and sight.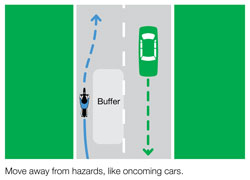 Space
As a motorcycle rider you have very little to protect you in a crash other than your riding gear. The more space from other vehicles and pedestrians the better. Creating space from hazards is referred to as buffering. Moving away from hazards can also increase the likelihood of being seen.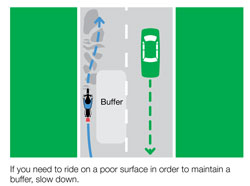 Surface
As the operator of a two wheel vehicle motorcycle riders need to be very aware of the road surface. Paint, oil, water, sand, gravel, pot holes and metal plates are all examples of different road surfaces that a rider needs to manage. For a motorcycle rider a relatively small change in road position can result in a significant change in the quality of road surface.
Although it is best to avoid riding on a poor surface, sometimes this is not possible, for example when buffering an oncoming vehicle the best road position may be the left side of the lane. The left side of the road may be bumpy and broken up, however it may be preferable to ride on this surface to get a safe buffer from the oncoming hazard. The solution is easy, if you need to ride on a poor surface to buffer a hazard, just slow down.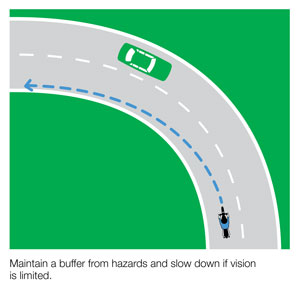 Sight
A good road position can allow you to see further and get more information about what is happening up ahead. Generally the right side of the lane provides good vision up the road, to the sides and also behind you. However the right side of the lane is a dangerous position to be in if there is oncoming traffic. Try to choose a road position that provides good vision without compromising your buffer from hazards.
This is particularly true when following large vehicles or when taking left bends. By actively managing their road position, considering space from hazards, road surface and sight needs a rider can significantly reduce the risk of crashing.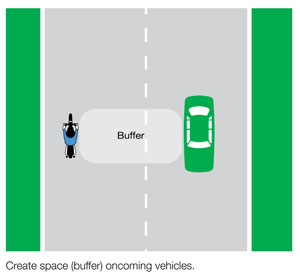 Examples of buffering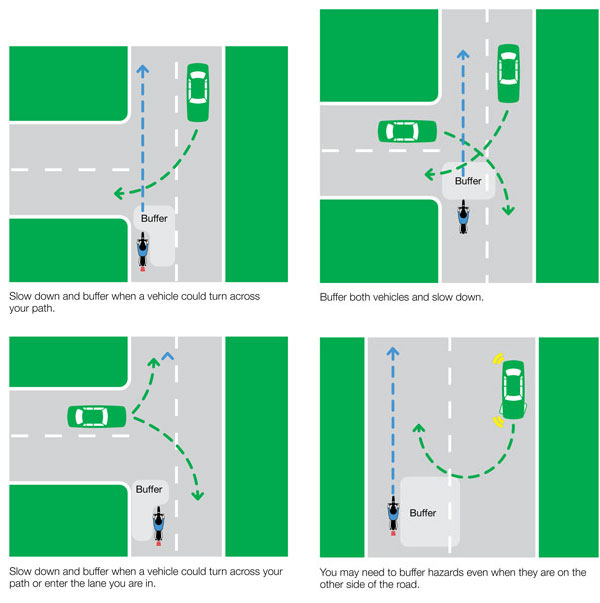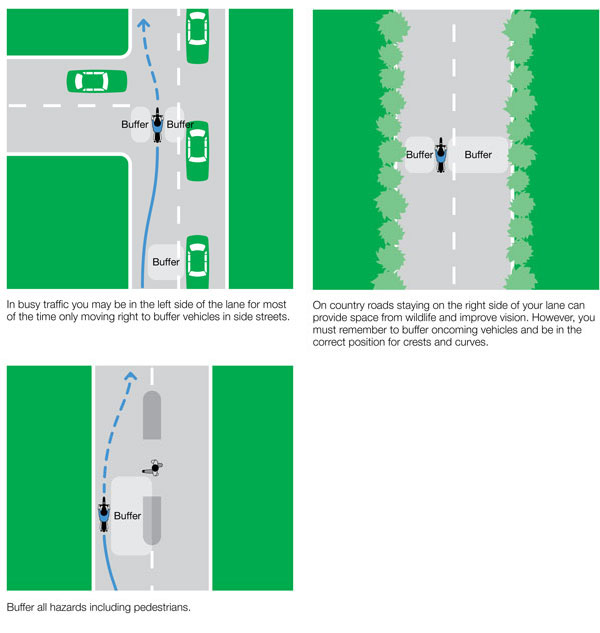 A motorcycle rider can legally use any part of their lane.
Vehicles following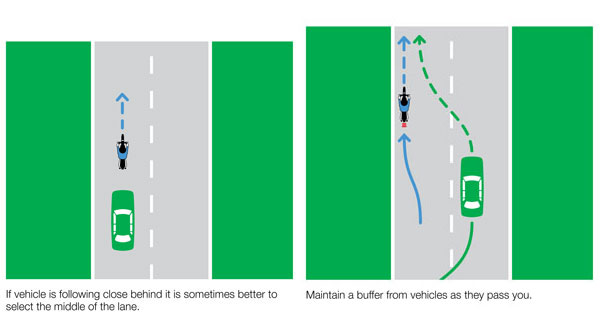 Vision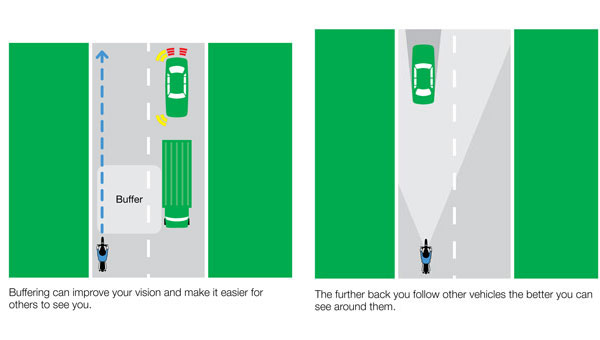 Blind crests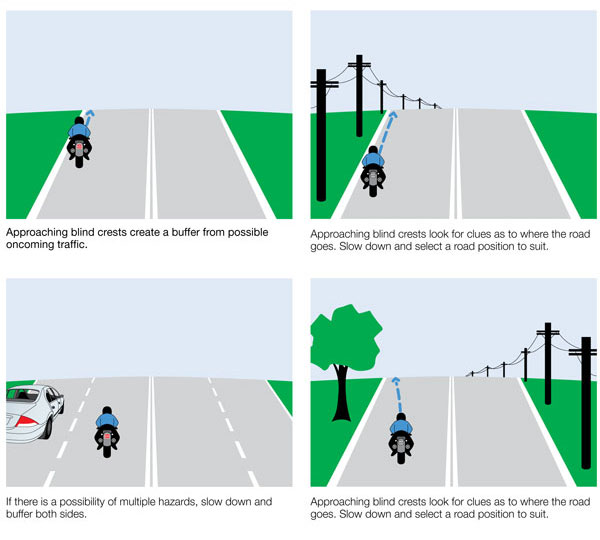 Multi-laned roads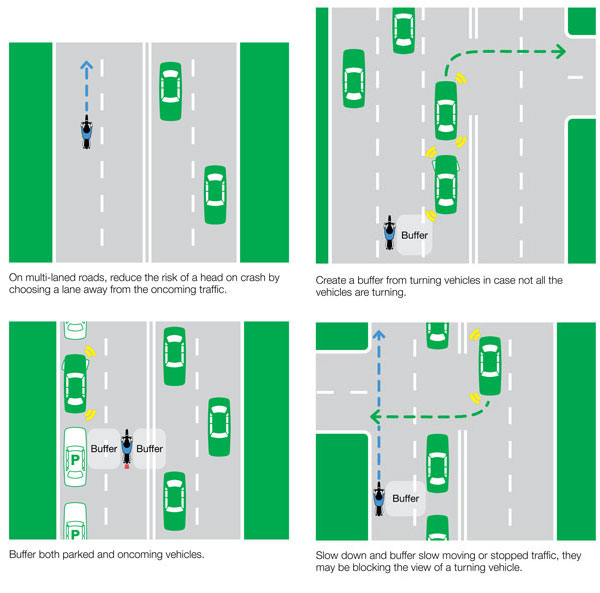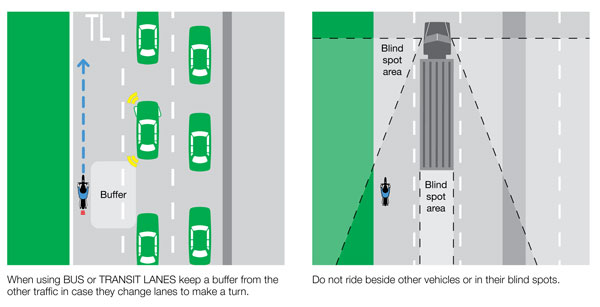 Overtaking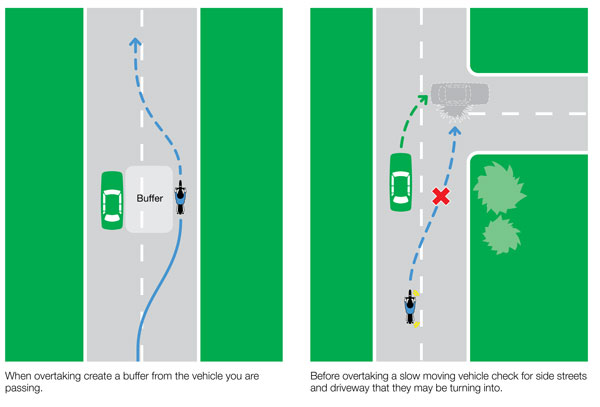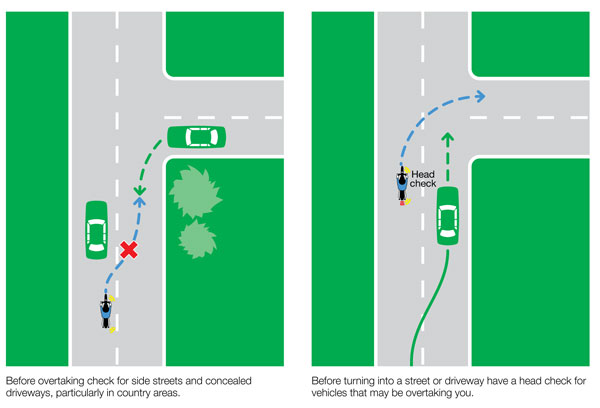 Turns at intersections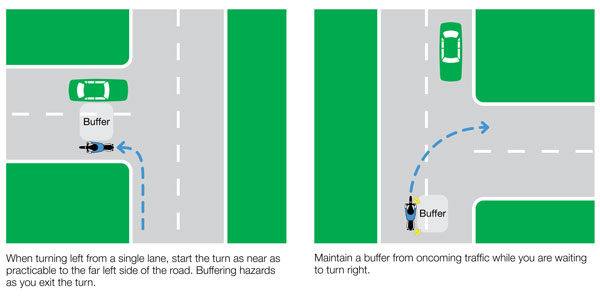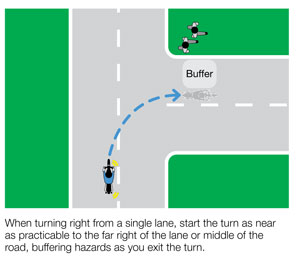 When turning left or right you must give way to any pedestrians crossing the road into which you are turning.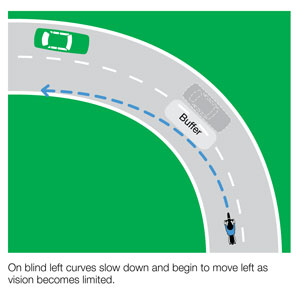 Positioning for curves and bends
Starting curves wide will improve your vision. Planning to finish them in tight will help you get your speed right and leave you room for slight errors. Most importantly, keep away from the area where oncoming vehicles are likely to cross the centre of the road (the head on zone). Taking curves and bends this way will slow you down a little on the approach but will allow you to accelerate out much earlier, when you have a clear view.
Plan to start curves wide for vision. Plan to finish in tight. Keep away from the head-on zone.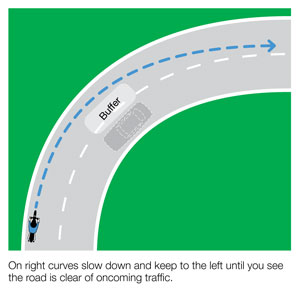 Many crashes happen because riders run wide on the exit of a turn.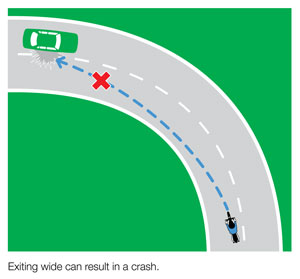 The danger of exiting wide
Many riders try to straighten turns resulting in the motorcycle existing the curve out wide. This is a particularly dangerous practice as it allows no room for error. If the curve 'tightens up' or changes direction the rider will need additional effort to complete the turn. Furthermore, on right curves the risk of a head-on collision is greatly increased.
When a rider finishes a curve wide there is no room for error.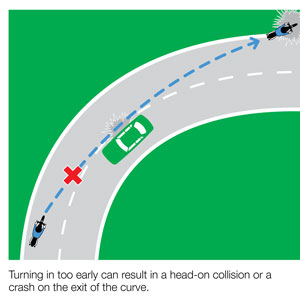 Riding in groups