Safe driving tips
Drive so others survive
South Australia is again supporting Yellow Ribbon 'Drive So Others Survive' National Road Safety Week from 4 to 11 May 2014, focusing on the protection of vulnerable people out on the road.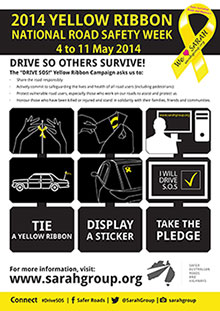 On average over the past five years, 106 people are killed on South Australian roads each year and 927 are seriously injured.Each year in Australia people are killed or injured in a road-side emergency lane or from vehicles parked on the side of the rod because their car has broken down.
Tragically, on the South Eastern Freeway alone there have been three fatalities since 2010 as a result of a vehicle stopping in the emergency lane and the occupant being struck by another vehicle.
Yellow ribbons symbolise a commitment to safeguarding the lives and health of other road users, and honouring those who have been injured or killed in road crashes.
South Australians are invited to support the DRIVE SOS message by tying a yellow ribbon to their vehicle, displaying a yellow ribbon sticker on their vehicles or taking a road safety pledge online. For more information, visit www.sarahgroup.org
SARAH was established following the death of Sarah Frazer in New South Wales, in February 2012, when she and a tow truck driver were fatally injured after being hit by a passing truck while they waited in an emergency lane following a breakdown.
How to Drive So Others Survive
Remember to slow down and be cautious if you see flashing amber hazard lights on the side of the road.
If you are involved in a breakdown and require roadside assistance, there are steps you can also take to minimise the risk for others:
Find a safe spot to pull over.
Park the vehicle as far left as possible.
Use your hazard lights to alert other motorists.
Leave the vehicle and move to a safe location (exiting from the left passenger side if possible).
If you have to stay in your vehicle, keep your seatbelt on.
If you are travelling past an incident on the road:
Be cautious when passing an incident or break down.
Slow down, and pay attention to surroundings.
For safe driving tips on what to do if you see a road side incident or what to do if your vehicle breaks down go to our Breakdown Safety tips.