The Driving Companion
Choosing a Motor Driving Instructor

A person who receives a fee or any other reward for teaching you to drive must hold the appropriate Motor Driving Instructor's licence. The instructor is required to clearly display this licence at all times while teaching you to drive.
Before choosing a driving instructor you should always check their licence and ensure that it is current and entitles them to conduct the training you require.
If your instructor is not appropriately endorsed, all tasks undertaken by you will not be counted towards your licence.
The time you drive with a Motor Driving Instructor can count towards your required 75 hours of driving experience and therefore should be entered in your Log Book.
There are three types of Motor Driving Instructors in South Australia.
Motor Driving Instructor (no flash)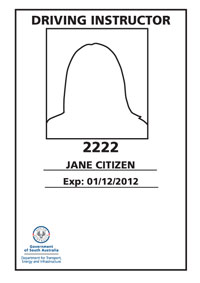 Driving lessons and preparation for your VORT

Sign off your Log Book forms
Sign off CBT&A tasks
Conduct a Vehicle On Road Test (VORT)
Issue a Certificate of Competency
CBT&A Motor Driving Instructor (yellow flash)

Driving lessons and preparation for your VORT



Sign off your Log Book forms

Sign off CBT&A tasks



Issue a Certificate of Competency
Conduct a Vehicle On Road Test (VORT)
VORT Motor Driving Instructor (red flash)

Driving lessons and preparation for your VORT

Conduct a Vehicle On Road Test (VORT) (If the instructor teaches you to drive they cannot conduct your VORT)

Sign off your Log Book forms



Issue a Certificate of Competency
Things you should ask your Motor Driving Instructor


Can I view your Driving Instructor's Licence and would you explain any of the endorsements?
Which method of training and / or assessment can you offer me?
Can you train and assess me in the CBT&A method and sign the tasks without me choosing another instructor for the reviews and final assessment?
Can I change my mind later about the VORT or CBT&A method?
What happens if I change Instructors?
If I choose the VORT what would be the cost of the test?
What Government charges are involved?
Will you issue a receipt for my lessons?
Does the training count toward my required 75 hours?

For further information please telephone 13 10 84
6 - 7
Tags
#learners, #licence, #stages, #beginner