The Rider's Handbook
Parking

Motorcycle parking
Parking rules and restrictions apply to all vehicles including motorcycles. However, a motorcycle may park at an angle.
A motorcycle is generally more stable when parked facing up a slope.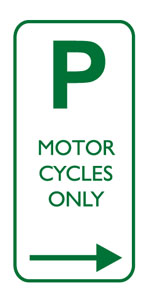 Some areas are designated motorcycle parking only.
It is recommended that a motorcycle is parked with the rear tyre facing into the curb. This will position the front of the machine facing up the slope (or camber) of the road for added stability and allow the rider to mount the machine and search the road for approaching vehicles and hazards before entering the traffic flow.