The Driver's Handbook
Vehicles and Registration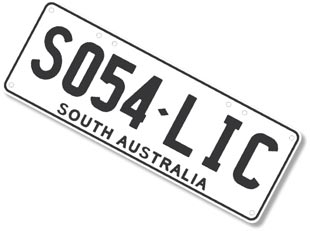 This section covers your obligations to register your motor vehicle and to be covered by Compulsory Third Party insurance.
Registration of Motor Vehicles
All motor vehicles that are driven on South Australian roads must be registered. Driving unregistered, without Compulsory Third Party insurance is a serious offence.
Insurance
Compulsory Third Party Insurance (CTP)
CTP insurance is paid at the same time as motor vehicle registration. Just as registration of your vehicle is compulsory, so is CTP insurance.
Your CTP insurance premium provides cover under a compulsory Policy of Insurance. The Policy of Insurance protects you (and other people who use your registered and insured vehicle, with or without your consent) against the financial impact of causing injury or death to other road users through the use of your vehicle anywhere in Australia.
You have the freedom to choose the CTP Insurer that best meets your personal needs, each time your registration renewal is due.
Each insurer's policy coverage is the same. To help you make your choice, your renewal notice or MySA GOV account shows a comparison of each insurer's premium prices and a claimant service rating, which shows how injured people who have made a claim rated the insurer's service.
For more information visit the CTP Regulator website.
CTP insurance does not cover damage to property (including to a vehicle or its contents).
Crashes involving Death or Injury
In the event of a road accident resulting in personal injury, please phone the South Australian CTP Insurance Personal Injury Helpline on 1300 303 558.

After reporting the crash, the owner, person in charge or the driver of a motor vehicle involved in a crash, have a duty to cooperate fully with the approved insurer in respect to providing the information required to process any claim. Penalties apply if this is not done (Section 124 of the Motor Vehicles Act 1959). This will include (in the case of the owner) a duty to give the approved insurer access to the vehicle, or part of the vehicle, on reasonable terms and conditions. This obligation is separate and distinct from any other obligation, such as reporting the crash to police.
Any person who is seriously injured in a crash, leading to lifelong disabilities such as very serious spinal or brain injury, whole limb or multiple amputations, major burns or blindness may qualify for support under the Lifetime Support Scheme (LSS). The LSS is a no fault accident compensation scheme to provide appropriate treatment, care and support for people who suffer serious lifelong disabilities in motor vehicle accidents in South Australia. The Lifetime Support Authority administers the LSS – their contact number is 1300 880 849 and further information is available via their website lifetimesupport.sa.gov.au/
Third Party (Property) Insurance
This insurance covers any damage caused by you to another person's property (e.g. their car), but not your car. It is relatively inexpensive and can be arranged by individual vehicle owners directly with an insurance company of their choice. If your vehicle is not covered for Third Party (Property) Insurance, you may have to pay the repair costs for the other person's vehicle if you are responsible for a crash, and these costs can often be very high.
Comprehensive Insurance
This insurance covers you for Third Party (Property) Insurance and will also pay for the damage to your own vehicle (even if the crash was your fault).
Download a fact sheet about how different motor vehicle insurance products work in South Australia , including CTP insurance, personal injury insurance and motor vehicle property insurance.
Driving an unregistered or uninsured vehicle
You must not drive an unregistered motor vehicle or vehicle without CTP insurance (uninsured vehicle), or allow an unregistered or uninsured motor vehicle to stand on a road.
To check your vehicle's registration expiry date please go to www.ezyreg.sa.gov.au
Number Plates
You must not drive a motor vehicle on a road unless a number plate or plates that bear the number allocated to the vehicle are attached to the vehicle. Number plates must not be altered in any way. The vehicle must not carry a false number plate.
Number plates must be visible from the front and rear of a motor vehicle and must not be obscured by a tow ball, load, plastic cover, dirt build-up or any part of the vehicles bodywork.
Bicycle racks on vehicles
A bicycle rack attached to a motor vehicle, and any bicycle on the rack, must not obscure the rear number plate of the vehicle.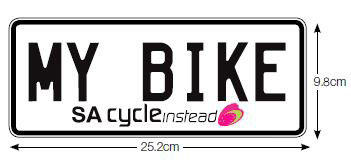 When attaching a bicycle rack to the rear of a vehicle, you can either:
display a bicycle rack number plate on the rack, or
take the rear number plate off the motor vehicle and attach it to the
bicycle rack.
You must not display a standard number plate on both the rear of a motor vehicle and on a bicycle rack or display homemade number plates.
Bicycle rack number plates have the same registration number as your motor vehicle and cannot be used on any other vehicle.
When carrying bicycles on your rack, you must attach an additional brake light if the brake lights on the motor vehicle are not visible from a distance of 200 metres (under normal weather conditions).
Bicycle rack number plates can be purchased at your nearest Service SA Centre or online at www.ezyplates.sa.gov.au
Penalties
Penalties apply for not complying with registration and number plate laws, for example obscuring a number plate or driving unregistered.
Visiting motorists - registration requirements
Vehicles registered in another Australian State or Territory can be driven in South Australia.
The vehicle must display the registration requirements of the interstate issuing authority if required, e.g. a current registration label or certificate, card, permit, plate or plates and it must have valid compulsory third party insurance.
If you have moved to South Australia you are required to change the registration over to South Australia within 90 days.