The Driver's Handbook
Young Drivers

On average, 9 young drivers and 4 young passengers aged 16-24 are killed in South Australia. In addition, around 95 drivers and passengers in this age group are admitted to hospital as a result of a road crash. Many will suffer permanent head, neck or back injuries.
What you can do as a young or new driver
Knowing the road rules is an important first step. But applying them while driving requires skills in not just vehicle control, but also in scanning the road ahead and in identifying potential hazards. Such skills are best learned through extensive supervised driving practice and an understanding of how you, as a young driver, respond to pressures and distractions.
Statistics show that young drivers have a far greater risk of death and serious injury than other drivers. The first few years of driving unsupervised - when you are on your provisional licence- are the riskiest of your driving life. Young drivers also have a significantly higher risk of death relative to the number of kilometres they drive, compared to other driver age groups.
Lack of experience, night time driving and the presence of passengers with similar ages to the driver all contribute to younger drivers having an increased risk of being involved in a crash.
1. Passengers
Research shows that carrying two or three similar aged passengers under the age of 21 (who are not family members) increases the risk of a young driver crashing by four or five times compared to driving alone. This is likely to be due to the distractions caused by the passengers, as well as the peer group pressure on the driver to take greater or more risks. P1 provisional licence holders under the age of 25 must not drive with more than one passenger aged 16 to 20 (not including immediate family members) unless they are accompanied by a Qualified Supervising Driver.
2. Late night driving
Many crashes that lead to the death of young drivers occur late at night, particularly on weekend nights and when carrying more than one passenger. This is likely to be due to inexperience in night driving as well as fatigue and risk taking. Research shows that P1 licence holders are over represented in late night crashes compared to full licence holders. P1 provisional licence holders under the age of 25 must not drive between midnight and 5AM unless they are accompanied by a Qualified Supervising Driver.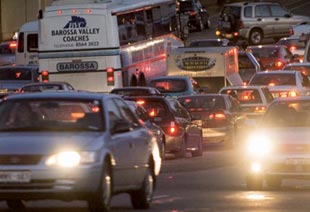 3. Inappropriate risk taking
Young drivers, particularly males, are more likely to drive too fast for the road conditions, drink drive, drug drive or not wear seat belts.
4. Perception of driving hazards
The skills to anticipate and accurately assess driving hazards develop over time. Young drivers often put themselves in potentially hazardous situations without always realising it, for example, driving too close to the vehicle in front or running red lights rather than stopping in time.
see also Driving at Night or in Poor Visibility in the road rules section
Take charge of building your driving skills and experience:
As a learner driver, get as much supervised driving practice as possible. Learner drivers who have around 120 hours of supervised practice have been shown to have substantial reductions in crashes.
Learn to drive defensively - defensive driving involves learning to anticipate trouble before it happens. The competency based (log book) scheme for obtaining a driver's licence uses a defensive driving approach, as do many driving instructors. Defensive driving courses will improve all aspects of your driving.
Ensure you know and adhere to the conditions, and other laws, that apply to your licence. They are there to protect you.