My car licence
Learner's stage

Got your L's? You can start learning to drive, but under special L-rules and conditions. Follow the rules and you're cool. Don't, and you'll get a fine, demerit points or lose your permit (be disqualified).
With your L's you'll get a book called The Driving Companion. It's all in there - compulsory driving hours, choosing a qualified supervising driver or a motor driving instructor, how to get your P1 licence... so get your head around the lot.
How you learn to drive is critical. The smart way? Getting heaps of practice with friends or family (who meet the requirements for a Qualified Supervising Driver) is a common approach.
Compulsory driving hours
You'll need to complete at least 75 hours of supervised driving in a range of conditions with at least 15 hours at night. You'll need heaps of experience in a range of driving conditions:
Light conditions - day, night, dawn, dusk.
Weather conditions - rain, fog.
Types of roads - highways, gravel roads.
Traffic conditions - light or heavy.

Heads up!
You'll need to complete at least
75 hours supervised driving hours
15 at night. Watch the videos above to learn how other learner drivers get their driving hours up -
practice practice practice
.
Start practising on quiet streets and, as you get better, try harder conditions but, only when you're comfortable controlling your car. Try a new condition at a time, and take time to get used it.
Develop a system for each driving lesson. Car keys, L-plates on, learner's permit, and log book.
Qualified Supervising Drivers
Choosing your Qualified Supervising Driver is important as they'll supervise, instruct and teach you the skills and process needed - checking the vehicle, car control, observing, planning and defensive driving.
They also have to verify your driving hours in your log book in The Driving Companion, and may also be asked to confirm their supervision of your driving.
Qualified Supervising Drivers can be anyone like a parent, friend or relative, but they must meet these legal requirements:
Current full licence holder for the vehicle class being driven for the past two years.(learner's permit, provisional or probationary licence does not count).
No driving disqualifications in the past two years.
No licence holders subject to good behaviour conditions.
Seated right next you at all times while you're driving. This also applies to parking practice (even in car parks).
A person who holds a foreign licence can be your qualified supervising driver, provided that they meet the above conditions, their licence is issued by a country recognised by South Australia and their licence is written in English or has an English translation.
Heads up!

It's an offence for a Qualified Supervising Driver to have a blood alcohol reading of 0.05 or more (or cannabis, speed or ecstasy) in their blood or saliva.
Motor driving instructors
Professional driving instructors (someone who charges you a fee) must have a driving instructor licence. They're trained, assessed and accredited, plus they're regularly re-assessed. A list of motor driving instructors is available in the Yellow Pages under 'Driving Schools'. Always check that they have a licence for the driver training you need.
Learning to drive safely
A driver's priority is to get there safely. So, get as much supervised driving practice as possible. But start slowly and gain experience gradually before trying new skills.
Drivers must watch what's happening around them and make lots of decisions. The more time you have to decide, and the more you practice, the more your driving will improve.
Driving defensively helps you anticipate trouble before it happens, so check out the competency-based training program in The Driving Companion.
Heads up!

Start practising on quiet streets and gradually work up to busier roads and higher speeds when your supervisor says you're ready.
Before you start the car, do this mental checklist:
Qualified supervising driver/ motor driving instructor next to you?
Got your log book?
Got your learner's permit with you?
Everyone's seatbelt on?
Mobile phones off?
Important driving rules you must know and follow.
Conditions
You are only allowed to drive the class of vehicle stated on the learner's permit under the following conditions:
You can only drive a motor vehicle when accompanied by a qualified supervising driver.
You must not drive or attempt to put a motor vehicle in motion...with any concentration of alcohol in your blood, or the presence of THC (cannabis), Methylamphetamine (speed) or MDMA (Ecstasy) in your blood or saliva.
You must not exceed any speed limit by 10km/h or more.
Other laws
Your L-plates must be clearly seen from the front and the rear of your car. (motorcycles, rear only.)
You must carry your current learner's permit at all times whilst driving.
The maximum speed limit is 100km/h where speed signs permit.
You must not incur four or more demerit points.
You must not use any type of mobile phone function.
A number of changes to the current Graduated Licensing Scheme (GLS) have been proposed.
Read more
for further information.
Heads up!

L and P1 drivers are banned from using any mobile phone function while driving - including hands-free mode, Bluetooth technology, loudspeaker operation and text messaging.
Breaking the rules
If you break your learner's permit conditions or accumulate 4 or more demerit points, you may be fined and disqualified from driving. If you are disqualified, when you return to driving you'll have to go back a step to:
re-sit and pass the theory test again
hold the learner's permit for a total of 9 months if you are over 25.
if you're under the age of 25, you must hold a learner's permit for at least 15 months.
Read more: Driving laws, offences and penalties
The Driving Companion booklet contains the log book to record your compulsory driving hours and you'll get a copy with your learner's permit.
The Driving Companion includes:
Driving.

Controlling your car and responding to what's happening around you. Plus checking your vehicle, observing, planning and defensive driving strategies.

Log book.

To record your compulsory driving hours each time you drive.

Vehicle-On-Road Test (VORT) and Competency Based Training (CBT).

Two ways to qualify for your P1 Provisional Licence. Pass a practical driving test (VORT) or gradually complete Competency Based Training (CBT). The Driving Companion contains the competency standards for both options.
Using the log book
Every time you drive, record the details on the green forms in The Driving Companion. There are 10 forms to record your day driving...and 2 forms for night driving.
If you have evidence you've held an interstate learner's permit your Qualified Supervising Driver may include that previous driving experience in your log book.
Heads up!

Make sure your log book's completed accurately and honestly. Penalties apply for fraudulent information.
If you lose it, grab another from a Service SA customer service centre for $5.
Want your previous experience recorded in your replacement log book? Your qualified supervising driver will have to re-enter it and sign it.
Driving with a learner's permit means you need L-plates on the vehicle so drivers know you are an inexperienced driver. L-plates must meet the following requirements;
The minimum size is shown here. L-plates must have the letter L printed in black on a yellow background.
L-plates must be clearly visible from the front and rear of the vehicle (rear only for motorbikes).
No L-plates should be displayed on the vehicle when the driver is not a learner driver (except when a licensed driving instructor is driving to or from a lesson).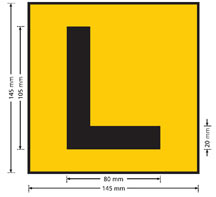 You can buy L-plates at Service SA customer service centres, the Service SA online shop or various retail outlets.
Heads up!

Penalties apply for not displaying L-plates.
To get your P's you need to have held a learner's permit for at least 12 months and completed at least 75 hours of supervised driving (including 15 at night). If you're over the age of 25, you'll need to hold your permit for only 6 months.
You can get your P1 licence by:
Option 1: Passing a practical driving test called the Vehicle On Road Test (VORT). You'll need to book with a motor driving instructor who has a VORT licence at least three days ahead and pay their fee.
or
Option 2: Complete the competency based training course (CBT) in your Driving Companion. You'll need to contact a motor driving instructor with a CBT licence who'll assess you in a series of practical driving sessions.
Heads up!

Check your driving instructor's licence to ensure they're CBT or VORT approved.
Both options are explained in The Driving Companion. After you've chosen which option suits you, completed the requirements and gained your certificate of competency, you can apply for your P1 provisional licence.
Passed? You can to go to a Service SA customer service centre, with your:
Certificate of competency.
Learner's permit.
Driving Companion with your completed declaration showing completion of the compulsory driving hours.
Fee for your P1 provisional licence.
We'll give you a temporary P1 provisional driver's licence, valid for one month while your photo card is being produced. Your P1 photo licence will be posted to you, and is good for two years or until you turn 19, whichever is longer.
Heads up!
Looking to buy your own car:Use the
My First Car Checklist
to ensure you buy the safest car for your budget.

Sign up to our eNewsletter
View our
current eNews
and get regular updates and safety tips.