The Rider's Handbook
Road rules for motorcycle riders
Motorcycle riders are required to adhere to the same road rules as other road users, so make sure that you keep up to date with the different road rules, signs and markings by reading the latest edition of The Driver's Handbook.

There are some rules that are specifically for motorcycle riders which will be covered in this section.

Riding on a motorcycle
The motorcycle rider must:
Sit astride the rider's seat facing forwards.
Wear a correctly fitted and securely fastened approved motorcycle helmet.
Keep at least one hand on the handlebars.
Keep both feet on the foot pegs (designed for use by the rider), when the motorcycle is moving.
Helmets
Motorcycle riders are required to wear a motorcycle safety helmet approved to either Australian standards AS 1698 or European Standard ECE22.05 when riding a motorcycle. The helmet must be properly fitted and securely fastened to the rider's head.
Keeping left
Generally when a vehicle travels on a single lane road the vehicle must drive as near as practicable to the far left side of the road. However, due to the importance of lane positioning for rider safety this rule does not apply to motorcycles and they can legally use any part of the lane.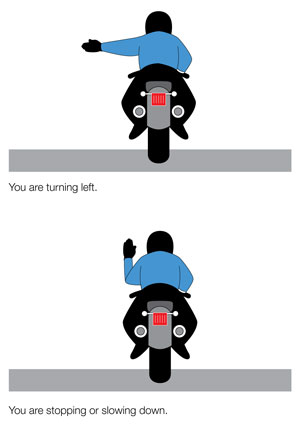 Hand signals
Motorcycle riders can use hand signals for stopping, slowing or turning. Hand signals can improve rider safety in situations where very bright light conditions made it difficult for the motorcycle's brake and indicator lights to be seen.
To give a hand signal for stopping or slowing, the rider must extend either arm at a right angle with a flat palm. Turning is signalled by a straight arm with flat palm pointing in the direction of the turn.
Lending or borrowing a motorcycle
A large number of fatal motorcycle crashes occur on motorcycles that have been borrowed.
Even if another rider has the right licence and you know them very well, every motorcycle handles differently and it is easy to make mistakes on an unfamiliar motorcycle.
The best solution is not to lend or borrow motorcycles.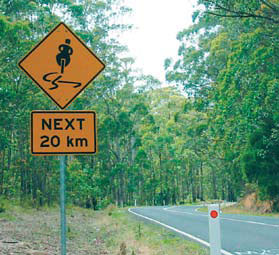 Motorcycle warning signs
This warning sign indicates to motorcycle riders that additional caution is required on the road ahead.
Road warning signs indicate approaching hazards and are particularly important for motorcyclists. Variations in road and surface conditions can seriously affect a motorcycle's stability, much more than their effect on a four-wheeled vehicle. Road conditions can significantly affect your brakes' effectiveness and the distances needed to slow and stop. They will also affect your corner speed and lean angle and the balance and stability of your motorcycle.
Riders should look for and pay attention to warning signs and adjust their riding strategy well before entering the identified hazard zone.
Riding at night
Riding at night, particularly on country roads is considerably more dangerous for motorcyclists. The risks of hitting an animal, misjudging a curve or not seeing a problem on the road surface are greatly increased at night. If you must ride at night, slow down to a speed that takes into account these risks and the effective range of the motorcycle's headlight.
You must not ride any motorcycle at night if the lights are not working.