The Driving Companion
Choosing this option offers the following

The practical VORT may be commenced between the hours of 7.00 am and 7.00 pm or sunset Monday to Saturday (whichever is the earlier time); and on Sunday, between 10.00 am and 7.00 pm or sunset (whichever is earlier);
The practical VORT may be taken on any day except Christmas Day and Good Friday;
The practical VORT will be conducted on an authorised VORT test route which has been designed to require most of the driving skills contained in the Competency Based Training & Assessment (CBT&A) course; and
The practical VORT will result in either a 'pass' or a 'fail' and is an objective testing system based on your correct responses to road and traffic conditions.
You are not permitted to undertake a practical test with any instructor who has contributed to your training. Your Driving Instructor must book your VORT with an instructor at least three full days prior to the date of the test. If you fail a VORT, you must wait 14 days before attempting another VORT.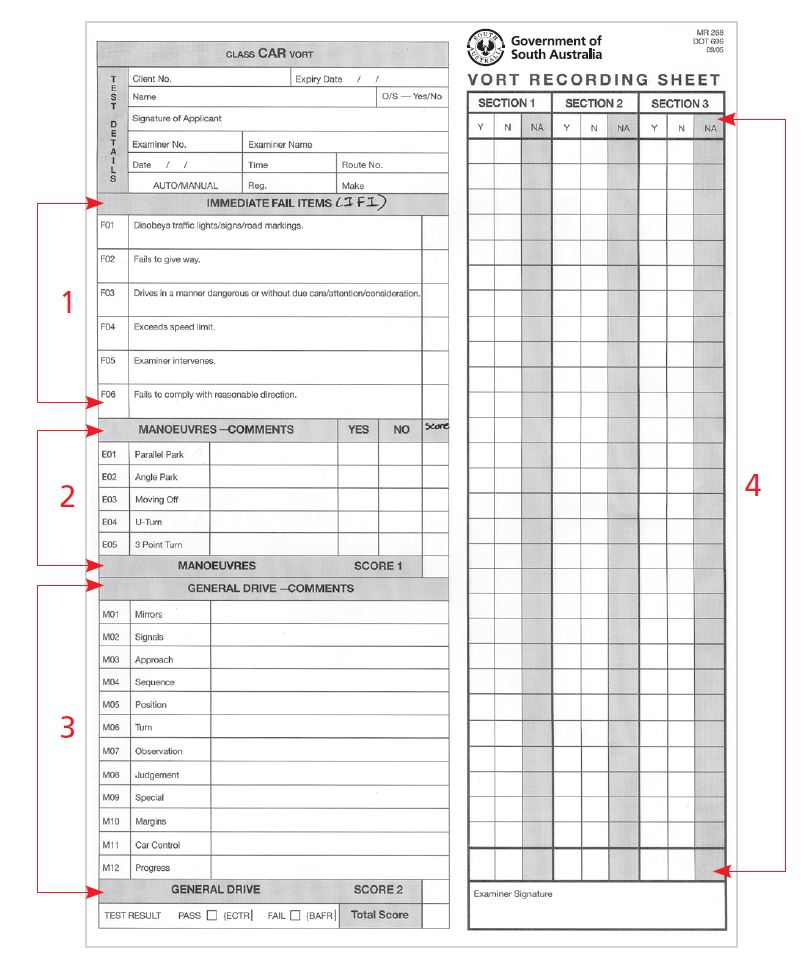 1. This section will identify breaches of road law. Scoring of the VORT will cease though the drive may continue for feedback to client.
2. You must demonstrate each of the following 5 manoeuvres. Each correct manoeuvre scores 2 marks, for a total of 10%
3. Refer to your Driving Companion pages 14-21 for explanation of these terms.
4. This section records how well you can drive. Faults will be in the detailed General Drive comments section. You may score a maximum of 90% for your general driving ability. If the test is terminated through an Immediate Fail Item, 2 horizontal lines are placed in this section to identify where the breach occured.
Tags
#learners, #licence, #stages, #beginner